We'd like to thank all of our customers for your support in 2019, and wish you all a happy festive holiday. We've had a busy and exciting year here at Piran, with lots of new staff joining us and some great achievements, including achieving ISO 9001 accreditation and becoming approved G Cloud 11 suppliers.
Christmas Opening Hours
We'll be operating on slightly adjusted opening hours over the Christmas period: details below. Rest assured that support for all customers with out of hours and extended support will remain unchanged.
23rd & 24th – Standard opening hours
25th & 26th – Closed
27th – 31st Standard opening hours
1st – Closed
2nd onwards – Standard opening hours
New staff
We'd like to welcome two new members of staff to the Piran team: Michael aka MJ (left), who's joined us from Lancashire, and Andrew (right), from Suffolk. In his free time MJ presents "Saturday Night at the Movies", a film music show on Liskeard FM. Andrew has moved down to Cornwall to explore with his family and is hoping to take up surfing when the weather improves!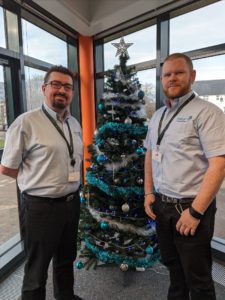 Christmas foodbank contributions
In an effort to reduce waste and do some good this year, we've made a donation to the Camborne, Pool and Redruth (CPR) Foodbank in lieu of sending customers Christmas gifts. We'd love for you to join us in donating to this very worthy cause; if you'd like to help out you can do so on the CPR website.
Other news
In addition to working towards our ISO 9001 certification (which we were thrilled to achieve in October: read more about this on the blog), we've also been working towards our Healthy Workplace Award. As a company we take the wellbeing of our staff very seriously and work hard to support them in any way we can. Our Sales and Compliance Officer Emma has been doing some Mental Health Training Workshops this month, looking at stress, resiliency and how mindfulness and meditation can support mental health.